UAH Rise School
The UAH Early Learning Center is a blend of best practices from early childhood education, child development, early childhood special education, and integrated therapy intended to give all children a firm foundation for their future. The learning environment is designed to promote and allow for multidimensional growth: socially, cognitively, physically, and emotionally.
The UAH Early Learning Center is comprised of RISE Model Classrooms, Office of School Readiness 4-year-old grant classrooms, Early Head Start and Head Start Classrooms."
We provide year-round services, with some scheduled breaks. We are aligned as closely as possible with the calendars of both the local school systems and UAH. The hours of operation are Monday through Friday from 8:00 a.m. to 2:30 p.m. Before-School Care and After-School Care (until 5:30) is offered for an additional monthly fee.
The UAH Early Learning Center is supported by gifts and grants from individuals, foundations and corporations, tuition, and UAH as a community outreach center for the College of Education
Mission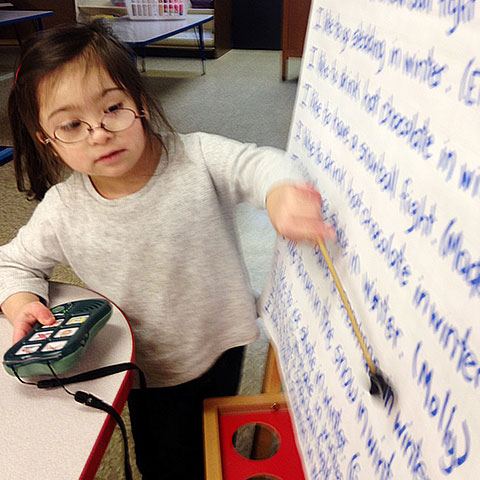 The mission of the UAH Early Learning Center is to:
provide exemplary services based on recommended practices to young children with diverse abilities and their families;
offer instructional opportunities through collaboration with various academic units in higher education;
engage in research that positively influences practice in the field of early childhood education at the local, state, and national levels;
interface with the community through outreach activities;
disseminate information and provide technical assistance to other community-based agencies; and
affect policy and system changes at the local, state, and national levels.
Philosophy and Goals
The goals of the UAH Early Learning Center are to (a) provide family-centered services designed to meet the individualized needs of all children and families; (b) provide a blend of educational and therapy services within the context of a developmentally appropriate curriculum; and (c) prepare young children for their next educational environment. The program adheres to the philosophy and recommended practices of both early childhood education and early childhood special education and child development.The philosophy is based on the following premises:
Services are family-centered with particular emphasis placed on the family as the primary decision-maker in each child's education.
The assessment process is dynamic and ongoing and includes multiple procedures, information sources, and settings. Assessment is linked to instruction.
Any therapy services needed are designed around an individualized plan consisting of goals and outcomes based on family's concerns, priorities, and resources; the child's strengths and needs; and expectations of the next environment.
Any needed therapy services may vary in intensity and structure. Services are based on the individual needs of children and families.
Children's development is promoted in all areas including gross and fine motor skills, independence, cognitive skills, communication, and social-emotional skills.
Any therapy services (i.e., physical therapy, occupational therapy, speech therapy, and music therapy) are provided within the context of the educational environment using an integrated approach. Therapy goals are educationally relevant and are implemented collaboratively by the therapists and teaching staff.
The foundation of the learning environment and activities is based on general early childhood education guidelines which are blended with recommended practices from early childhood special education.
Specially designed instruction and curricular adaptations and accommodations are embedded in the daily activities of the classroom.
The curriculum is designed to foster children's self-confidence, self-esteem, independence and curiosity.
The curriculum includes functional objectives that support children in their current environment and prepare them for more inclusive environments.
The curriculum reflects a balance between teacher and child-initiated activities.
The program addresses the children's transitions from one classroom to another and transitions to other more inclusive educational environments.
.
Admission to the UAH Early Learning Center
Families interested in the UAH Early Learning Center are encouraged to visit the school to learn more, ask questions, and share information about their child. Please contact Deana Aumalis at 256.824.4750 or deana.aumalis@uah.edu to schedule a tour. Children are enrolled based on their age, availability, and individual needs.
All eligible children are admitted to UAH Early Learning Center independent of any race, color, and national or ethnic origin.
---
Enrollment Instructions
Application Information
Please complete the application for enrollment and return to the ELC either in person or by mail/email. Please include the application/registration fee of $50 (non-refundable). Payment can be made online with a credit card or by check made out to the "UAH Early Learning Center."
Deana Aumalis, Director
UAH Early Learning Center
301 Sparkman Drive
Huntsville, AL 35899
ELC Forms
Upon acceptance, complete and submit:
ELC Photo/Video Release
Medication Authorization Form (OTC or Prescription)
Tuition Agreement
Policy Agreement
Medical Emergency Form
Additional Requirements:
Blue Immunization Record (provided from physician)
CONTACT US
Location
The UAH Early Learning Center
4503 University Dr NW
Huntsville AL 35816
Mailing Address
The UAH Early Learning Center
The University of Alabama in Huntsville
301 Sparkman Drive
115 Early Learning Center
Huntsville AL 35899
Tel: 256.824.4750